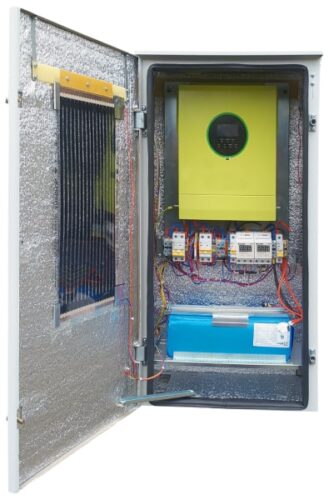 Currently, there is an urgent need to equip traffic light facilities on the territory of Ukraine with backup power systems in case of emergency power outages or scheduled power outages.
The backup power supply device "KOMKON RJ" provides backup power for most traffic lights objects with consumed power up to 300-350 W for 6-8 hours.
The equipment operates in automatic mode and does not require additional maintenance.
The device works at temperatures from -30°C to + 50°C. At the same time, both the battery discharge mode (powering the traffic light object) and the charge mode from the external network are provided. As a rule, industrial batteries (including helium and AGM) are designed for charging at positive temperatures. In addition, they have large dimensions and weight. Unlike them, lithium batteries have better weight-to-size characteristics, which allow you to place the equipment in a small cabinet, and the weight of such equipment is relatively small. However, not all lithium batteries can be charged at negative temperatures, except for special ones, so the cabinet is equipped with a heating system in winter. A lithium battery with a total energy capacity of 3600 kWh was selected for autonomous operation of the traffic light object for 7 hours.
Composition of the equipment set:
Electrical cabinet with heating and ventilation system
Lithium battery
Charger
Inverter
Overall dimensions – 490x320x900 mm
Weight – 45 kg