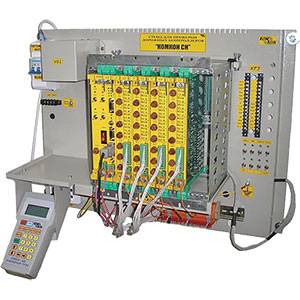 Stand for checking road controllers' units KOMKON SN is designed for testing of sub boards (KDIP, KDU and KDP) and the carcasses of traffic controllers KOMKON KDK.
Stand KOMKON SN consists of:
Powertrain switch.
The rack for controller units*.
Terminal blocks for control and input circuits.
Tumbler switches and LEDsfor control and input circuits.
Chase.
Output terminal blocks WAGO.
Fuse for power outlets.
Power outlets.
Platform for engineering console.
Shelve for measuring devices and the carcass.
Tumbler switch for communication line.
Terminal block for communication line.
Automatic circuit breaker.
*Cost of sub boards and console is not included to the cost of stand.