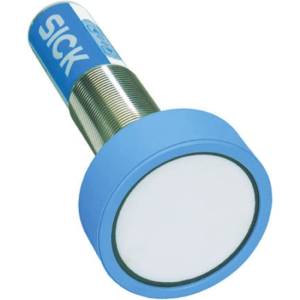 Ultrasonic vehicles detecor KOMKON DTU is designed to be used together with traffic controllers KOMKON KDK to implement traffic monitoring in area of their deployment.
Content of KOMKON DTU:
The ultrasonic sensor UM30-215111.
Threshold device.
The main technical characteristics

| Parameter name | Value |
| --- | --- |
| Power supply voltage DC | 12 V |
| Current consumption | 70 mA |
| Operational range | 0.8-6.0 m |
| Accuracy of measurement range | 2 % |
| Protection class rating of sensor case | IP65 |
| Operational temperature range | -25 … +50°C |
The main features of functioning:
DTU's main element is an ultrasonic sensor to detect objects UM30-15111. The principle of work of these sensors is based on measurement of time between emitted ultrasonic signal and the echo reflected from the obstruction, which is in directly proportional to the distance to an object. The sensors have automatic temperature compensation to keep the accuracy of measurement in the range of -20°С…+50°С.
The sensor is protected against overload and improper connection of supply voltage polarity.
Setting of operational range is provided with controls placed outside the case of the sensor.