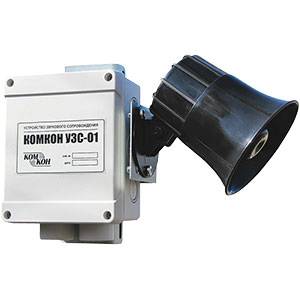 KOMKON PZS (there are two versions – PZS-01 and PZS-02) produces audible signal which imroves safety of the street crossing by the blind or partially-sighted pedestrians. The device is connected paralley to the Green signal output circuits of traffic controller.
KOMKON PZS is compatible with any kind of traffic controllers.
PZS housing is made from durable ABS plastic and has enviromental protection rate IР55.
PZS package includes:
PZS unit;
Dynamic speaker;
USB – UART converter;
KOMKON PZS Configer software;
Functional possibilities
PZS-01 provides performing of the following functions:
Uploading of the sound files from PC to PZS-01 microcontroller;
Previous PZS-01 messages erasing;
Automated discrete adjustment of the sound volumne in the range from 0 up to 100% from maximum (12 levels + mute);
Reading and setting of the internal real-time clock;
Setting of the date switching between summer and winter time;
Programming of the weekly and daily schedules of the PZS-01 volumne adjustment ;
Sound signal frequency setting («beep» sound).
The sound accompaniment device PZS-02 differs from PZS-01 in additional possibilities of sound accompaniment not only for the green traffic light, but also for the red traffic light and the "Wait" signal, having the corresponding additional inputs and recorded sound files.
Technical parameters

| Parameter name | Value |
| --- | --- |
| Power supply voltage | 187 .. 242* V |
| Power supply frequency | 50 Hz |
| Maximum power consumption, less then | 10 W |
| Maximal size of sound file to upload | 10 Mbit |
| Degree of protection from enviromental impact | IP55 |
| Operational temperature range | -40 … +60°C |
| Weight, less then | 1,2 kg |
| Dimensions, mm | 240 х 220 х 95 |
| Degree of protection of man from electrical shock | II according to GOST 12.2.007.0-87 |
*Survives in the range 150 .. 255V