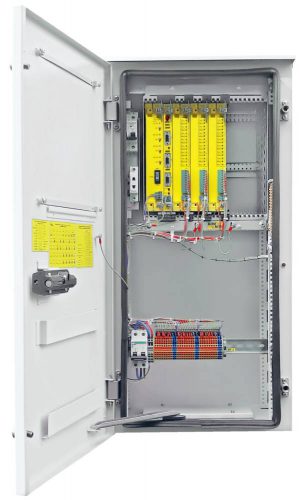 Traffic controller KOMKON KDK (configurable traffic controller), is designed to control traffic lights signals at traffic lights intersections. Controller KOMKON KDK can work alone and as a part of automated traffic management system (ASKDR).
Technically KOMKON KDK is implemented on the modern components, also the configuration and operational algorithms may vary according to customer requirements.
Thanks to the reliability, relatively low cost, flexible service traffic controllers KOMKON KDK is now widely disseminated in Ukraine and other countries.
Traffic controllers KOMKON KDK are manufactured in accordance with the applicable requirements of DSTU 4157 – 2003 (in part with requirements for road controllers) and GOST 34.401-90, as there are the certificates of conformity.
Controller KDK content:
Equipment for the implementation of mandatory requirements:

The enclosure – container.
The rack for the installation of modules.
Power source module – KDIP.
CPU module – KDP.
Control modules – KDU.
Switching panel based on WAGO pads for screwless connection.
Powertrain unit consisting of:

Powertrain switch – automat;
Main bidirectional thyristor;
The lamp for the case lighting (for use by operational staff).

Equipment for implementation of additional requirements:

Electricity meter.
Radio station with power source.
GPS receiver module.
Radio modem module.
Line modem «Start» module.
GPRS – modem module
Module for connection to IP network.
Technical parameters

| Parameter name | Value |
| --- | --- |
| Power supply voltage | 187 – 242 V* |
| Voltage frequency | 50 Hz |
| Power consumption | no more than 20 W |
| Maximum load current per 1 channel | 3 A |
| Minimum load power per 1 channel | 4 W |
| The number of output control channels | up to 64** |
| Threshold voltage for control schemes | 50 V |
| Max number of connected KVP | 2 |
| Operational temperature range | -50 … +60°C |
* There is a version of KDK-02 with a 24V power supply for controlling traffic lights operating from 24 V
** Controllers with 48, 56, 64 channels are available by special order.
The functional parameters

| Parameter name | Value |
| --- | --- |
| The number of controlled traffic directions | up to 32 |
| The number of controlled traffic phases | up to 16 |
| The duration of the main phase cycle | 1 – 254 sec. |
| The duration of the intertact | 0 – 254 sec. |
| The number of daily programs | 1 – 24 |
| Discretisation of timings setting | 1 sec. |
Additional information about controller KOMKON KDK (KDK-01 and KDK-02):
The modular principle of building KDK allows replacement of failed units, modules and malfunction diagnostic of controller directly on operational site.
LED indicators show the status of the controller and peripheral devices, which simplifies their diagnostic.
Energy independent real-time clock and nonvolatile memory for temporary programs allow resuming of correct work of the controller in case of disconnection or power failure.
Configurable controller's case is equipped with internal lighting, additional outlets, automatic overload circuit-breaker, has a reliable lock system.
Programming of controller is provided using an external flash memory modules within fifteen seconds.
Easy to create traffic control program using KOMKON SPOD and reprogram external flash memory (program can be created based on the customer's technical specifications for traffic management at the
traffic light object).
To prevent the simultaneous operation of the green light LEE at conflict directions KDK monitors the load voltage on all channels and produces analysis of these voltages by algorithms for searching of
conflict pairs and needless green. In case of finding of a conflict situation KDK checks channels by method of their sequential switching on and if the conflict is confirmed – turns off traffic lights power and
repeats checkout after 2 hours.
KDK controls the load current on all channels to determine failed red LEE. In case of finding of failed LEE red one direction KDK sets "Yellow flashing" mode and checks the load status every 20 seconds. In
case of load recovery KDK enables operational mode.
All channels of controller are protected against overload and short circuits.
There is possibility of assignment up to 24 programs (using KOMKON SPOD), which will be performed depending on the time, as well as the day of the week.
It is possible to connect up to two KVP's to call the necessary phases.
The capability of manual control:

setting the KDK into any defined phase (up to #12);
setting the KDK to traffic lights disconnection mode;
setting the KDK to the «Yellow flashing mode»;
setting the KDK to the daily program.

Multifunctional engineering control console KOMKON PI allows monitoring of status and operation of traffic controllers KDK, diagnosis of connecter circuits, operational modes management and setting some
parameters (for details, see the article «Engineers console»).
Traffic controllers KOMKON KDK can be integrated into the ASUDD. Traffic controller can be managed using the following communication equipment:

radio;
telephone lines;
mobile networks (GSM / GPRS / EDGE);
IP-network (twisted pair, fiber, WiFi, WiMax).

Following protocols are supported:

KOMKON;
ROSTOK-Elekom (wired and radio communications, limited capabilities);
START.

Using ASKDR it is possible:

set the controller into traffic lights disconnection, yellow flashing, coordinated control modes , into defined phase or defined program;
switch a group of controllers into "green wave", "green street" modes (coordinated traffic signalization);
check the working order of the controller, as well as the working order of traffic lights connected to it (for details, see the article «KOMKON ASKDR»).

Radio or line modem (for connection through wired lines) is placed directly on the CPU board of controller.
For other communication equipment (external radio modem, radio station, GPRS – modem, etc.) it is specified a place in the controller.
Electrical safety requirements:
Traffic controllers KOMKON KDK meet the requirements of GOST 12.2.003, GOST 12.2.007.0, "Regulations for the design and construction of electrical installations ", "Operational code for
electrical installations".
Electrical resistance of isolation between short-circuited contacts of the power pad XF1 and the controller chest is not less than 20 MOm.
Electrical resistance of grounding circuits between the chest and grounding bolt is no more than 0.1 ohms.
Warranty:
The warranty period of exploitation is set 24 months from the date of commissioning. The warranty period of storage is equal to 6 months from the date of manufacture.
The average controllers' lifespan before the limit condition must be at least 8 years.
Mean-time-between-failures is at least 12000 hours for each function or channel.